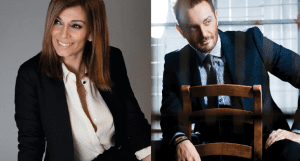 Gala 2017: Featuring Elli Kokkinou & Christos Menidiatis
Thank you all for joining us at NHM Gala 2017!
Save the date for next year's Gala: May 12, 2018!
NHM Gala 2017 has come and gone, but we are still treasuring the memories of that night. Take home a photo of Gala 2017 from our photographers:
Elios Photography photographs can be purchased here.
John Gress photographs can be purchased here.
Enjoy the spirit of the festivities in these photo booth snaps here.
Thank you for a night of laughter, dancing and togetherness. We are thrilled to have had over 650 members of our community join us on Saturday, May 13th at Navy Pier for NHM Gala 2017. We are honored to represent such a kind and giving community. We are so grateful for your continued support!
This year's Gala, themed "Stories of Our Journey", celebrated the diverse stories of the Greek American experience — the history that NHM collects, preserves, and shares every day of the year. Greek American Chicago sportscaster Lou Canellis served as Master of Ceremonies and began the evening by sharing how he had been inspired by his Greek heritage. After the invocation by His Eminence Metropolitan Iakovos and Reverend Father Chrysanthos, Governor Bruce Rauner paid tribute to the contributions of Greek Americans to culture and society. NHM Board Chairman John P. Calamos, Sr. and NHM President Dr. Laura Calamos then spoke about how the Museum inspires and educates many generations of Americans through the NHM's exhibits, classes, and programs. This year's event also featured both silent and live auctions to benefit the NHM and its educational mission. After dinner, Elli Kokkinou and Christos Menidiatis brought the crowd to their feet as the gala audience danced into the night Όλοι μαζί (All together).The evening focused on heartfelt stories, with two particular Greek American journeys honored this year: the late Dr. Mary Dochios Kamberos, a Life Trustee of the National Hellenic Museum, as remembered by her nephew Dr. Nick Vlachos, and Mr. Konstantin Raptis, whose contribution was recently added to the Frank S. Kamberos Oral History Project at the Museum. Hearing journeys like these had a profound effect on many in attendance.
Your donations directly impact programs, lectures and classes that encourage lifelong learning for people of all ages. On behalf of the Board of Trustees and dedicated staff, educators, docents and volunteers – thank you! Together with you, our friends and families, the National Hellenic Museum can continue to proudly celebrate and portray our shared heritage. Thanks for your generous contributions. Thank You!




 For more information about Gala, contact
Francesca Peppiatt, Development Coordinator
(312) 655-1234, ext. 21
development@hellenicmuseum.org