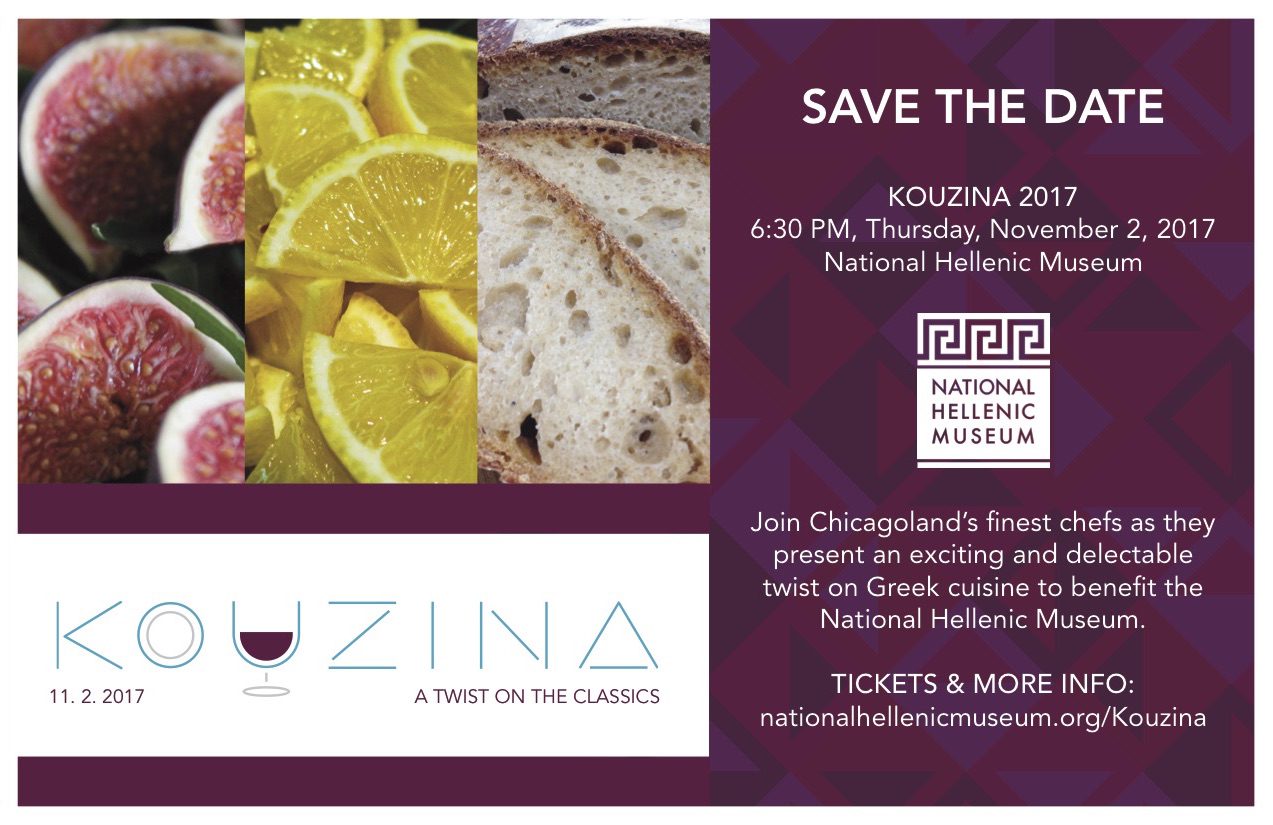 Join us on November 2, 2017 for Kouzina! Stay tuned, tickets coming soon.
"Let go of worries. Share in the flavor of good things. Be together."
Those words, shared in a welcome letter from National Hellenic Museum Chairman John B. Calamos, Sr., encompassed the spirit of Kouzina 2016; Chicago's premiere chef-driven food festival, held on November 3, 2016.
This year's Kouzina was an "epic" success with record ticket sales and guests enjoyed themselves on every floor of the Museum.
"Now is the time to celebrate our heritage through our cuisine. It's as much a part of our culture and history as athletics, mathematics, medicine, music, philosophy, and astronomy," said Chef Peter Minaki, who served as honorary chef chair of Kouzina 2016.
Thank you to our Platinum sponsors
The Calamos Family
Greek National Tourism Organization
The Metropoulos Family
Thank you to our Gold sponsors
Grecian Delight Foods & The Parthenis Families
The Koudounis Family
The Honorable and Mrs. John J. Stamos
Thank you to our Silver sponsors
Dalmares Produce, Inc.
Dr. and Mrs. Kenneth A. Kehl & Katherine G. Siavelis
Thank you to our Bronze sponsors
Billy Goat Tavern and Grill & The Sam Sianis Family
Jimmy and Eleni Bousis & Family
John and Martha Cannis
Centaur Construction
Christ Panos Foods Corp.
Mr. and Mrs. Gus Danos
The Gianaras Family
Anna Giannoulias & Family
Greek American Restaurant Association
Mr. Mark Klesman & Dr. Kathleen Webster
James H. Lagos Company, Inc.
Mantea Kapatanakes Schmid
Special Services Area #16 – Greektown
Nick and Joanna Vern
Thank you to our Supporting sponsors
Dr. and Mrs. Chris Giannoulias
Maria and Dean Lampros
The Law Offices of George C. Xamplas
William Glastris Jr. – Private Equity Investments
Regas, Frezados & Dallas, LLP
The Village Squire – Alexander's Café
Kathy Bizoukas Zotos
To see the photos of Kouzina 2016, visit our Facebook page.