The Gus and Mary Stathis Library & Resource Center serves researchers exploring the Greek immigrant experience in the United States, students of all ages and backgrounds, and those interested in seeking information about Greek culture. The Library's non-circulating collection includes primary source and out-of-print materials and is focused primarily on two areas:
Greek Immigrant history and experience in the United States
Artistic and literary work of the Greek people and the celebration of the Greek culture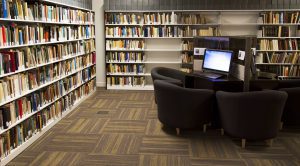 The collection includes books, serial publications, and other documents including the personal papers of several prominent figures in the Greek community. It includes books on Greek history, culture, language, and religion, rare volumes such as 17th and 18th century manuscripts, 20th century fiction by Greek authors in English and Greek, as well as classical literature in translation, ancient art, archeology, and historical events such as the 1974 invasion of Cyprus and the Asia Minor catastrophe. In addition, the collection also includes Greek-American newspapers, magazines, record albums, archival records, and other materials.
Do you have Greek materials that you would like to donate? The Museum's collections are pest and particulate regulated to ensure quality preservation to keep materials safe.
Go to our Collections Donation FAQ for guidelines.
The Library & Resource Center is generously sponsored by
Gus and Mary Stathis
For more information, contact
Margaret Fraser, Collections Manager
(312) 655-1234, ext. 23